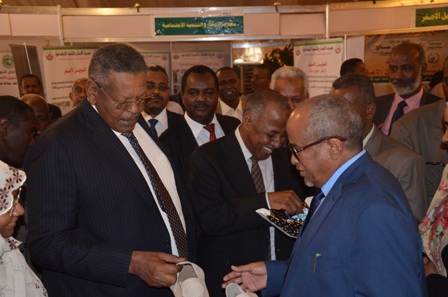 First Vice President of the Republic of the Sudan issues a direction to raise the capital of SSDB t
Addressing the third forum of the Microfinance which held at the Friendship Hall in Khartoum , The first Vice President of the Republic of the Sudan his Excellency, First lieutenant General , Bakri Hassan Saleh directed the concerned bodies ( Ministry of Finance and National Economy, Central Bank of Sudan ) to raise the Savings and Social Development Bank ( SSDB ) capital from SDG 152397 million to SDG 200 million before the end of 31 December 2016 as well as raising the loan ceiling for microfinance from SDG 20,000 to 50,000 in the 2017's budget . On the other hand, he commended the role played by the SSDB in the field of implementing Government social policies , praising the projects funded by the SSDB in the different spheres such as industrial and agricultural sectors that used to compete against the imported products.
From his part , the General manager of SSDB his Excellency, Mr. Alzain Omer El-hado stated that the direction issued by the First Vice President that related to the microfinance comes in the context of the Government concerns on social development, the thing which motivated the SSDB to contribute effectively in providing microfinance for a huge number of targeted persons who economically active in the different fields , indicating that the SSDB used to deliver microfinance to more than 60,000 family annually, disclosing that it operates within 55 branches and outlets spread throughout the country and implements more advanced banking technology .On the other side, he stated that the SSDB is accounted for 27.4% of the over all microfinance in the country.

Posted on 2016-11-29